This department provides education and resources including test kits by mail with the submission of the coupon below. Click to print the coupon or stop by the health department office closest to you to pick up a radon test kit in person.
Las Animas County: (719) 846-2213
412 Benedicta Ave, Trinidad CO 81082

Huerfano County: (719) 738-2650
119 E 5th Street, Walsenburg CO 81089
What is Radon?
Radon comes from the natural radioactive breakdown of uranium in soil, rock, and water. It is an invisible, odorless, tasteless, cancer-causing gas that enters buildings through the numerous cracks, holes, and pipes in the foundation. It can also enter a building from well water.
Radon can be found in any building, but homes are the most concerning since that's where families spend the most time.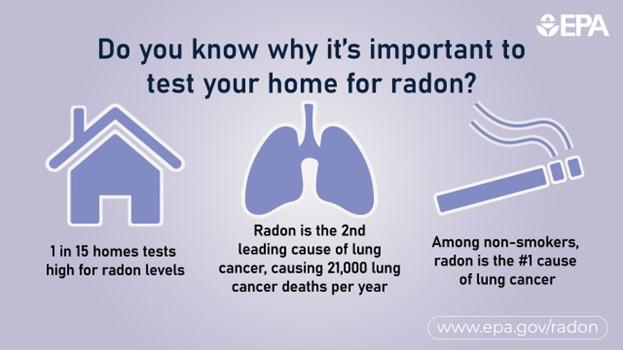 Colorado Low-income Radon Mitigation Assistance Program (LIRMA)
To those who qualify, the state of Colorado offers financial assistance to reduce radon in your home. Learn more about CDPHE Low Income Radon Mitigation Assistance program.
Radon Can Cause Lung Cancer Among Non-Smokers
Radon breaks down into radioactive particles that can cause cancer when inhaled. These radioactive particles can damage the cells in our lungs and increase the risk of lung cancer. Radon is the leading cause of lung cancer among non-smokers, and second leading cause of lung cancer for smokers (tobacco use is the number one cause of lung cancer among smokers). It is estimated to cause about 21,000 lung cancer deaths per year and about $2 billion in medical expenses and lost productivity.
The Iowa Radon Lung Cancer Study tracked nearly 1,000 women who had lived in their homes more than 20 years. The results of the case-control study (after adjusting for age, smoking, and other factors) indicated that a 20-year exposure of radon levels at the EPA guideline of 4.0 pCi/L yielded an increased lung cancer risk of 50%.
2021-2025 Colorado Cancer Plan
The Colorado Cancer Plan has guided the prevention, treatment, and control of cancer statewide for more than 25 years. Decreasing environmental exposures that lead to cancer, including exposure to radon, is one of four goals of the 2021-2025 Colorado Cancer Plan.